Directed by Howard Hawks
In his best comedies, Howard Hawks humour comes from the same thing: the antagonism between a man and a woman that hides the underlying attraction between them.
This is what he gives us in I Was a Male War Bride, and it comes off brilliantly.
Set just after World War II in the chaos of postwar Germany, Cary Grant is a French army officer who has to team up with an American W.A.C. to carry out a small mission – get in touch with a man involved in the black market.
(Yes, Grant as a French military officer doesn't sound very likely and it isn't – but the movie isn't about being realistic in that sense.)
As events unfold, the woman he ends up teaming with is Ann Sheridan with whom he has obviously worked before.
They have an established hostile relationship, apparently due in part to Grant's previous attempts at sexual shenanigans.
While their relationship is hostile, it's also good-humored. The characters do anger one another but, at the same time, it is an act they are aware they are playing.
Following the Hawks approach to these sorts of situations, they head off on their mission. A number of disasters and humiliations occur to Grant along the way, much to the amusement of Sheridan.
Grant, of course, blames her for his disasters and vents his frustrations on her, which only fuels the amusements she's having at his expense.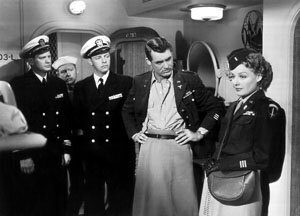 Eventually they acknowledge their mutual attraction and decide to marry. This initiates the next phase of Grant's frustrations and humiliations. He's French; she's in the U.S. military – there is red tape to get past.
Then she is posted back to the US Now they have to find a way to get Grant there.
The loophole in regulations that they find is to send Grant back as Sheridan's spouse – a war bride.
And so on. The humour comes out of the antagonism of the Sheridan-Grant relationship in the first part of the film. In the second, it comes from their separation due to military bureaucracy and Grant's ongoing humiliations – and frustration at being unable to consummate his marriage.
Despite being hamstrung by film censorship, Hawks manages to get quite a bit of sexual innuendo into the film, and some of the funniest moments come from this, though often they are quick, off the cuff comments.
As an example, when Sheridan and Grant can't sleep together as man and wife and he's forced to spend the night in the bathtub, he's says he'll be all right, "I'll turn on the cold water."
While not Hawks' best comedy, I Was a Male War Bride is a very good one. As with most of his films, it moves very quickly and there are almost no extraneous elements to distract from the story.
Cary Grant and Ann Sheridan work very well together, too. Grant is … well, Grant in his best comic mode. (There are a couple of scenes where he tries to sleep – in a chair, in a bathtub – which are priceless for his face and also by what he does with his hands.)