Directed by Otto Preminger
This is by no means a great movie but, for some reason, I like it. For one thing, I love the song. It's horribly corny, but … well, I like it. Go figure.
I think I'd call River of No Return a comfort movie. Like another movie I get the same feeling from, Father Goose, it's just feels comfortable watching it and I don't tire of it. At the same time, I can't help having qualms because I know it's not a particularly good film. It's not bad, either, it's just a middlin' kind of movie.
And very cornball. Marilyn Monroe is a honky tonk floozy in a town in the Northwest. Robert Mitchum is a guy with some land he's working out in the wilderness. Because of a bad guy and Indians (yes, Indians) they're forced to take a raft down river.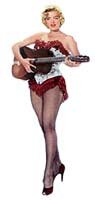 Well, there's a lot more than that. Essentially, this is an old-fashioned adventure movie with a romance thrown in. Robert Mitchum looks a bit more clean-cut than he normally does, and Marilyn is … well, Marilyn in tight jeans, saloon singer corsets and so on.
Despite this wishy-washy review, there are a couple of really nice elements to the film. One is Marilyn's singing.
She does quite a bit of it (including a nice rendition of that cornball song I love, River of No Return) and it demonstrates what a nice voice she had and her talents as a singer.
The other element of the film that stands out is the second-unit work. The scenery and the shots that incorporate it are wonderful. Shot in British Columbia I believe, the natural backdrop is quite stunning and the cinematography is top-notch.
As part of the Marilyn Monroe: The Diamond Collection II, the film has gone through the restoration process and the image is fabulous. Maybe a little too much so.
The problem with having such a good image is you get to see some major continuity problems, such as the changes from on location work to studio. This must have been a rushed, low budget affair as a very poor job has been done matching lighting and other elements, and it's really quite obvious.
You also get to see some omissions in the restoration process. During dissolves, you see one quality of image then, just as the dissolve ends, the quality of the image, particularly the light element, jumps to a much higher quality.
It's almost as if once the dissolve ends, someone turns on the lights.
I don't recall noticing this the first time I watched the disc. But I did the second time. And, not being a tech guy, I'm guessing the problem is in the restoration.
However, given the poor job in the filmmaking, perhaps its in how the film was originally made.
Either way, there are some technical issues with this movie that stand out.
So … This is a troubling film. I can see so many problems with it. Yet, despite that, I like it.
There's no accounting for some people's tastes.
(Originally posted in 2003.)