Directed by Alfred Hitchcock
(This review is based on the 1998 Criterion single disc release. There is now a two disc edition available, released November 2007.)
Of the Alfred Hitchcock films I'm familiar with, which is quite a few but by no means complete, The Lady Vanishes strikes me as the most overtly and effervescently comedic. In many parts, it's screwball comedy, something you don't immediately think of when you think of Hitchcock.
While the film has the usual suspense associated with him, and the unfolding of the story is brilliantly constructed cinematically, what most strikes me with this film is the sheer fun it's filled with. Unlike the comedy of a film like The Trouble With Harry, which is dark and somewhat plodding, this film, while containing dark elements, is incredibly light, exuberant, and moves quickly (almost like a train, as Bruce Eder points out in the commentary).
A woman taking a train mysteriously disappears. Another woman is aware of the disappearance but when she brings it to the attention of others, including the authorities, the vanished woman's existence is denied. There is an apparent conspiracy and it has no explanation.
The film opens with a lengthy introduction of characters and clues but, unlike what we expect from a Hitchcock film, it is not dramatic or suspenseful. It's comedic. In some places, bawdy.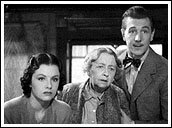 The real action doesn't begin until the characters have boarded the train in the second act. But once they do, the film suddenly picks up steam and takes off.
Throughout the film, however, Hitchcock punctuates and accents everything with humour: satire, slapstick, wit. He also uses ideas and techniques that appear again in his later films (usually more fully developed in those movies). But many of them have their origins here. (Listen to the commentary for a detailed analysis of this aspect of the movie.)
While certainly not Alfred Hitchcock's best film, The Lady Vanishes may be the best of his earlier British films. It is also filled with the Hitchcock genius for suspense, construction, and glaring clues we only catch when we see the film a second time.
It seems to me that this is a young man's film. While there are critical and satirical aspects to it, there is no sense of cynicism to it or any jaded quality (which sometimes informed the humour elements of Hitchcock's later films). Again, this really seems to be a film where Hitchcock simply had fun. This s probably why, watching it, the audience has so much fun too.
While there are a number of DVD editions of this film available, the Criterion version is probably your best bet for a good transfer. It has been restored and, while far from pristine, for a film from 1938 the quality is quite good. The commentary by Bruce Eder is the primary special feature. There are really no extras beyond this but it's a good and informative commentary especially if you want background on the movie and information on how it relates to later Hitchcock films.
Note on the 2007 edition:
This review was of the 1998 Criterion release of The Lady Vanishes, a single disc with little beyond the commentary in terms of features. The 2007 edition from Criterion is a two disk set that includes:
New, restored high-definition digital transfer
Audio commentary by film historian Bruce Eder
Crook's Tour, a 1941 feature-length Charters and Caldicott adventure, available for the first time on home video, starring Basil Radford and Naunton Wayne reprising their beloved The Lady Vanishes roles
Excerpts from François Truffaut's legendary 1962 audio interview with Alfred Hitchcock
Mystery Train, a new video essay about Hitchcock and The Lady Vanishes by Hitchcock scholar Leonard Leff
Stills gallery of behind-the-scenes photos and promotional art
New essays by critic Geoffrey O'Brien and Hitchcock scholar Charles
(3½ stars out of 4.)
(Originally written in 2002.)