Ava Gardner: 'Love is Nothing' (2006)
by Lee Server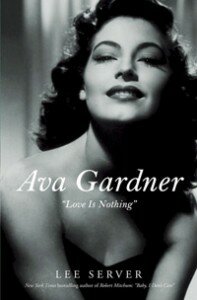 I recently finished reading Ava Gardner: "Love Is Nothing" by Lee Server and it's nothing if not entertaining. Somewhere, he makes mention of her living life "like a rocket."
It's an apt description but I think I'd say she lived like she drove cars – fast, carefree and just a little bit out of control (and with more than a few crashes).
It really is an extraordinary life and, if the end has a bit of sadness to it, it should be seen in context. Her highs were very high and the lows – well, very low. It strikes me as a life characterized by extremes.
I found the biography very good and, as one reviewer mentioned (I can't remember who it was), while Server details the good and the bad he does appear to have an affection for his subject. But then, really, who didn't? One thing the biography makes fairly clear is how easily most people found Ava to like, even to love.
And yes, the book covers all the marriages and the affairs and, good grief, there were a helluva a lot of them.
As for her film work, one thing that comes across (for me, at least) is how much we missed of some fine acting – for several reasons. In part, a studio that seemed incapable or indifferent to placing her in good roles, and also Ava's own insecurities and capriciousness. She was better than she knew, better than the studio allowed her to be and so she probably never achieved what she might have on film.
We do, however, have Ava Gardner in some gems, like The Killers and (my favourite) The Night of the Iguana. (Server often mentions the film Pandora and the Flying Dutchman and, while Gardner is quite fine in the film, as is James Mason, the movie as a movie is a bit of a turkey.)
If I have any objection to the biography I think it is that an explanation for the kind of personality Ava Gardner had may be absent, though I'm not sure anyone could actually explain what went into making Ava Gardner. This is not to say the book omits anything or is remiss in anyway. But she seems to have experienced major swings in mood (many, I would imagine, caused by alcohol – she was, I think, an alcoholic, taking it in like water). She was also plagued by insecurities.
And really, what explains that relationship with Sinatra? Alcohol and combustible personalities … It's an explanation but I'm not sure that fully accounts for it.
Whatever the reasons, Ava Gardner's life is utterly fascinating. And perhaps more than just the endless incidents and relationships, it may be its inexplicable quality that makes it most compelling.
Also see: