Directed by Ivan Reitman
I watched the movie Dave the other day (for probably the third or fourth time since it came out back in 1993 – yes, fifteen years old now) and thought this is like a Capra movie if, say, Capra was doing dope or otherwise mellowed.
It has a Capra sensibility without being frenetic like many Capra movies. By referring to Capra, I suppose I'm trying to say the film is sentimental. But there is bad sentimentality and there is sentimentality that is good, the kind that works. And believe me, it works in Dave.
Why does it work? I think Roger Ebert nailed it in his review back in 1993:
"The movie is more proof that it isn't what you do, it's how you do it: Ivan Reitman's direction and Gary Ross' screenplay use intelligence and warmhearted sentiment to make Dave into wonderful lighthearted entertainment."
Yes, you have to accept that this is light. But for me, that is often the best entertainment. It doesn't take things quite so seriously and somehow that allows a story to simply unfold.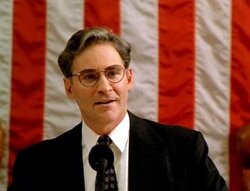 The story is simple enough: a guy who looks and sounds like the President of the United States is asked to pretend he's the President for strategic purposes. Then, something not so good happens to the real President the guy, Dave, kind of becomes the President. Dave, however, isn't as cynical or self-serving as everyone else in Washington and so … hijinks ensue, as they say.
It's more complicated than this, of course. For instance, the First Lady (Sigourney Weaver) hates the President. An interesting relationship then develops when Dave becomes her husband, the President, but isn't the same man.
Relaying the storyline, however, does nothing to convey how engaging the film becomes or just how pleasant, and funny, it is to watch.
Roger Ebert, in his review, covered pretty much all the points I was going to make about the film, and much better than I will. Yes, there is the Capra sensibility. He also mentions, as I will too, how the performances are what help to make this movie fly. Beyond the very nicely detailed performances of Kevin Kline and Sigourney Weaver, there are the spot on performances of the supporting cast (like a Capra film!): Frank Langella, Kevin Dunn, Charles Grodin.
Although the movie is fifteen years old, at this writing, I found it played fine with little sense that time had diminished it. In fact, the only element of societal/cultural change I found was in the politics which were, in the film, largely domestic (homelessness, unemployment) – the world beyond the U.S. borders largely are non-existent in the film. No Iraq! No war!
But that's okay. This isn't a film about politics. It's a film about being nice, and decent, and down-home common sense. That, admittedly, sounds like wretchedly dull stuff to make a movie from.
The surprise of the film is how utterly engrossing, and amusing, that stuff can be.
On Amazon: