Directed by Mark Sandrich
The movie Holiday Inn is memorable for a number of things, some good, some not so good. To begin with, it brings together a trio made up of Irving Berlin, Bing Crosby and Fred Astaire. Not a bad place to start.
The movie itself is a Hollywood soufflé, very light, very unlikely, and quite delightful. It's a Christmas movie that happens to be about every holiday in the year.
It's a fantastic confection about an inn where people come to party and celebrate holidays, yet apparently never has guests.
Crosby and Astaire are partners in show biz. Unfortunately, they are actually a trio, the third member being female (Lila, played by Virginia Dale). Of course, both men fall for her but it is always Astaire's Ted that "gets the girl."
So Lila and Ted go off as a duo when a despondent Jim (Crosby) quits and moves to Connecticut and a farmhouse he plans to turn into an inn, one that only opens on holidays – when holiday-themed shows are put on.
Jim does so. Then Linda enters the picture (Marjorie Reynolds). Jim falls for her. Then a drunken Ted shows up, whom Lila has abandoned for a Texas millionaire. Now Ted wants Linda … and so on. In the midst of all this we get a party plate of Irving Berlin songs.
Holiday Inn is light and silly but doesn't care; it knows the story is really about creating a setting for the songs.
For instance, it introduced the world to the song White Christmas. (The movie of the same name would come later.) It also gives us Easter Parade (which would also be turned into a movie, later).
The movie also gives us the somewhat astonishing song Abraham, with Bing Crosby and Marjorie Reynolds in black face and Louise Beavers as Mamie singing to her wide-eyed children, "When black folks lived in slavery, who was it set the darkie free? Abraham!"
To an audience today, it's one of those double take moments where you can't quite believe what you're seeing and hearing, yet you are. It's certainly a scene that stays with you.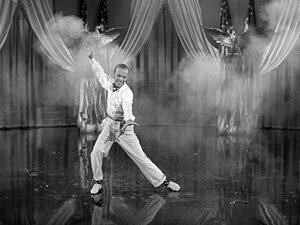 Personally, one of the highlights of the movie for me is Fred Astaire. And as much as each dancing scene is a marvel, including the firecracker dance routine, the scene I love is where he dances as someone drunk.
It's amazing.
Holiday Inn is a fun, light, Hollywood Christmas fantasy and is a delight when seen that way.
It aspires to nothing more than presenting a series of wonderful songs and routines within the gauze of Hollywood make-believe. Not every song is a gem, of course, but enough of them are to make it worthwhile.
This movie has often been confused with the later film, White Christmas (1954). That one starred Bing Crosby as well, teaming him with Danny Kaye, and also concerns an inn (though that one is in Vermont). I haven't seen White Christmas in a while but I believe that of the two movies, I've always preferred Holiday Inn.
On Amazon: