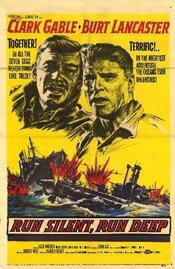 Directed by Robert Wise
I saw an interview with the actor Laurence Fishburne the other day in which he was speaking of various influences when he was young. At one point, he brought up the movie Run Silent, Run Deep and Clark Gable. What struck him in the movie was Gable's gravitas. I immediately thought, "Yes, that is the perfect word for it."
Fishburne brought this up because Gable would have been in his late 50s when he made the film. He was not playing the young, dashing, romantic figure of movies like Gone With the Wind. And he wasn't playing the great white hunter of Mogambo, made only five years earlier.
He does, however, play a "manly man," which would have had great appeal for him, from the little I know of Gable.
Run Silent, Run Deep is a guy movie. There are really only two female roles in the movie: a very small part as Gable's wife (Mary LaRoche) and a pin-up poster. It's all guys and for the most part they are confined in a submarine. Despite that, it's a good movie. Actually, it is because of that it is a good movie. It knows what it is about and its focus doesn't waver.
Gable is submarine Commander Richardson, a man who, as we see in the opening scenes, loses the sub he commands when it is sunk by a Japanese destroyer, one that acquires a kind of legendary status because it is so successful in sinking U.S. subs. (The movie is set during World War II.)
After a long wait, Richardson gets another command (one he has specifically gone after). Unfortunately, that sub's crew thinks their first officer, Lieutenant Jim Bledsoe (Burt Lancaster) is getting the command, as does Bledsoe. When Richardson comes aboard to take over, it is to a resentful crew and first officer.
Things don't improve when he makes the crew go through the same drill repeatedly, obsessed with shaving seconds off the time it takes to dive and launch torpedoes. It further degrades when this new commander appears to avoid going after Japanese ships. It strikes the crew as cowardly.
It turns out the commander has plans: against orders, he intends to take the sub into dangerous waters and sink the unsinkable ship that is taking out all the U.S. subs, including Commander Richardson's previous submarine.
It's a simple, direct story and won't ever be accused of being overly sophisticated. But it's virtue is its simplicity and directness. Director Robert Wise has left nothing necessary out and has put nothing unnecessary in.
Gravitas, like the word gravity, comes from the Latin word "gravis" which means seriousness or weightiness. Gable communicates it wonderfully. Lancaster does to a degree too, though in a different way. Between the two actors, you get a nicely dramatic contrast.
Gable, outside moments of command, speaks in a drawling, friendly manner. In moments of command, he's brusque and direct. Lancaster, on the other hand, with his character's resentment, speaks in a clipped fashion. He also communicates a sense of simmering anger that only his naval discipline keeps in control.
It's the dynamic between the two characters that really propels this movie, though a straightforward, determined plot nicely aids it.
I've seen this movie several times over the years and have liked it every time. Initially, I was a young boy and thought it was cool because it had submarines and torpedoes. Grown up, I like it because it is just a good, well told story.