Directed by Frank Tuttle
Without intending to, I caught This is the Night on TCM last night and I was delightfully surprised. It was funny, curious and also interesting historically in that it was the first full feature movie Cary Grant ever appeared in. It was directed by Frank Tuttle, a man I know best for having directed This Gun For Hire that starred Veronica Lake.
To get the Cary Grant aspect out of the way, you can tell it's an initial effort. His performance is good sporadically. Often he overplays it, though in one way it works because the film is a farce. You can see, however, the beginnings of what he would later become, especially his comedic skills.
But this movie is really Lily Damita's and Roland Young's. (The movie also stars Charles Ruggles and Thelma Todd.)
An athlete (Grant) returns from the Olympics. While he was away, his wife (Todd) has been involved with another man. As that other man, Roland Young must try to cover up the affair. With the help of a friend, Ruggles, he hires a heavily accented actress (Damita) to pretend she's his wife.
It's a relationship comedy – quite a funny one – and it is filled with sexual jokes. (The movie was made pre-Code.)
For example, a recurring joke in the movie involves Todd whose dress keeps getting removed accidently by the chauffeur/butler. There are verbal jokes as well, such as Damita's character who doesn't understand English well, and ends up interpreting hints as, "I live in sin. I am naughty," when Young tries to tell her to say she's from Cincinnati.
It's silly, yes, but lots of fun. It's not exactly a screwball comedy; it's a bit too farcical for that. But you can see the beginnings of screwball (just as you can see lingering hints of the silent era in the visual humour, as mentioned in this review).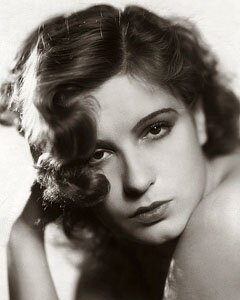 What I found curious, and a little off-putting, was what I initially thought was a technical mistake in the broadcast but later saw was deliberate. It was this: much of the film occurs in Venice and much of that is at night. Every time the action occurs outside, at night, the screen goes blue.
Yes, it's a colour that suggests night but in a movie that is otherwise black and white it's a jarring and unnecessary effect. A quick online look revealed no reference to this so I don't know if this was something the original movie tried or was added later. But I do know I would remove the effect.
Apart from that, This is the Night is a very fun and funny movie; it even has some nice romantic elements, not to mention Cary Grant's movie debut. I was glad I found it.
As an aside, Cary Grant would work with Roland Young again a few years later in the movie Topper (1937).
As another aside, Lily Damita was married to Errol Flynn for a number of years and later married to Michael Curtiz. Her Hollywood career was relatively brief. She essentially got out of acting in movies when she married Flynn.