After The Big Sleep, John Huston's Key Largo is my favourite Bogie and Bacall movie. Another good one is To Have And Have Not and the fourth would be Dark Passage, the weakest of them all because it is so wrong-headed.
Key Largo is partly interesting because the famous Bogie-Bacall chemistry is pretty much irrelevant. It may be there, but so what? This movie is about the story, the drama and all the characters. I think we can thank John Huston for that.
Key Largo (1948)
Directed by John Huston
Of the four movies Humphrey Bogart and Lauren Bacall made together, Key Largo is the last. What strikes me as interesting about it is how, despite the romance suggested between the characters, Bacall is almost a minor character in the movie. But then, in a sense, so are all the characters.
This is truly an ensemble movie, perhaps because it began as a play. You might expect it to focus on Bogart and Bacall, especially given their fame as a couple, but it doesn't.
Director (and co-writer) John Huston is more interested in the story.
As the movie plays out, the film seems to hand the lead role off from Bogart, then to Robinson, then to Barrymore, then to Trevor, and then back to Bogart again. At the same time, Huston emphasizes place – in this case, the Florida Keys – as a major character, as he does with the hurricane.
Having left the Army, ex-Major Frank McCloud goes to Key Largo to pay respects to the family of one of the soldiers under his command who was killed in action. McCloud seems a bit aimless having left the army; this obligation he feels to visit the family is about the only purpose he has at this stage in his life.
The family owns a hotel in Key Largo and when McCloud gets there both he (and we, the audience) sense something is up. Some shady characters are hanging around the hotel and they seem eager for McCloud to leave.
As the movie unfolds, it turns out they are criminals. They take over the hotel as they await other criminals to meet up with them in order to conclude a deal concerning counterfeit money. It also turns out they are led by Johnny Rocco (Edward G. Robinson) who has returned to reclaim his life and position in the criminal world, from which he has been gone for eight years (likely in prison).
Unfortunately for the gang of thugs, this is Florida and it is hurricane season and one is blowing in.
What the movie does is to bring all these characters together in one place and confine them in close quarters. You feel the walls closing in, so to speak, as the winds get stronger and shutters are closed. They are all closed in; sunlight vanishes.
The movie's true is star is arguably Edward G. Robinson. He's mean and menacing and dominates everything around him. Once he appears in the movie (which is not immediate), he seldom leaves the frame.
There is a curious contrast between Robinson's Johnny Rocco and the other characters. In many ways, they are all frozen in the moment, unsure what to do (except Rocco). Because of the death of Bacall's husband, who is also Barrymore's son, those two are stuck. McCloud, discharged from the Army, is unsure what to do with his life. They would all like to go forward; they're just not sure how.
But Johnny Rocco has no interest in going forward. He wants to go back. He wants to reclaim and relive his former glory. He lives in, and dreams of, the past. Claire Trevor's character, Gaye Dawn, is also stuck in the past because she is still connected with Rocco and she is an alcoholic. The relationship is abusive but she is dependent on Rocco, or so she feels. She is stuck and, because of her association with Rocco, it is the past she is stuck in.
Just as they are all confined within the hotel, so they are confined within this moment of uncertainty about their lives. They aren't living in the present; they are confined within it.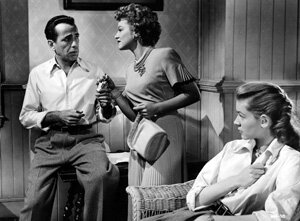 Tension builds in the movie partly because of the storm, partly because Johnny Rocco gets increasingly anxious about completing his deal, but also because of the forward and backward pull between the characters: Johnny's will to go back to the past; McCloud and the others' desire to break free and go forward into the future.
Dramatic and suspenseful, Key Largo is a tremendous example not just of good filmmaking but of good drama, period. It's a good story well told. I loved it.
On Amazon: